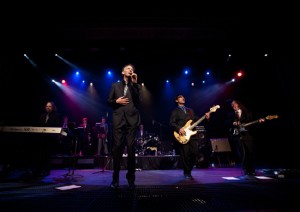 "A most original cover band…smooth as Scotch…"— Chicago Sun-Times
"The quintessential party band – suave hits, eclectic misses and cocktail favorites" – Seattle P-I
"…That sweet schtick that's rocked a thousand wedding receptions" – The Stranger
The Dudley Manlove Quartet is indeed a most original cover band. Since its debut in 1995, DMQ has become one of the Northwest's top club draws and corporate and wedding acts, wowing crowds with a unique mixture of chestnuts from the Swinging 60s, high-energy 70s pop and disco hits, romantic 80s synthpop, and smooth lounge standards. For versatility, danceability, professionalism, and just plain fun, DMQ simply can't be beat.
The Dudley Manlove Quartet's specialty is serving up the tunes you forgot you knew, fresh yet familiar classics from the Golden Age of Pop that you loved then and still love today.  Not many bands can jump from ABBA's "Dancing Queen" to Neil Diamond's "Sweet Caroline" to the Buggle's "Video Killed the Radio Star" in one set, but that's exactly what the Dudley Manlove Quartet does every night. It's a swingin' Vegas floor show, a funky wedding reception, and your high school prom rolled into one giant party.
And the party is rolling. Appearing in the best venues in Seattle (Triple Door, Showbox, Tractor, Neumo's), Portland (Crystal Ballroom), San Francisco (Bimbo's, Café du Nord, Fillmore West, and Red Devil Lounge), Los Angeles (House of Blues), and Chicago (House of Blues), the Dudley Manlove Quartet brings the house down wherever they play. DMQ has also performed at countless weddings in Washington and across the continent (e.g., Vancouver Island, Massachusetts, Jackson Hole, Napa Valley, etc.) Corporate clients like Microsoft, Philips Medical, Amazon, and Price Waterhouse Cooper have also jumped on the DMQ love train for private parties throughout the West Coast and in far-flung locales like Tokyo, Toronto, and the Caribbean. They know that no matter what the crowd, the Dudley Manlove Quartet will get the joint jumpin'.
But don't just take our word for it: See for yourself how some recent DMQ clients feel about the DMQ experience.
For booking info: booking@dudleymanlove.com