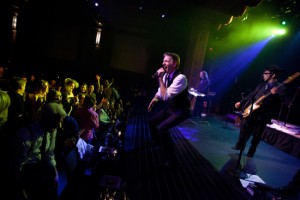 Here's a sampling of what DMQ's recent clients have to say:
"Thank you, thank you, thank you! What a fun and magical evening filled with your awesome music! You made our night. Thank you for learning our first dance songs and for making the night spectacular."
Megan and Michael Fairchild
Mercer Island, WA
---
"Thank you for making our wedding such a blast! Everyone had the time of their lives. The older generation was telling us that they've never stayed so long at a wedding. Complete success!"
Jackie Oldenberg, San Francisco
---
"DMQ did a fabulous job. Our people were a little slow to warm up but as usual, but the band worked their magic and got them out on the dance floor! I have received so many positive comments from everyone who attended the party. Thanks for all of your hard work, professionalism, and the incredible amount of energy and passion you put into your shows. You made our company holiday party a hit!"
Andrea Ballard
Director of HR and Administration
Peterson Sullivan LLP, Seattle
---
"DMQ is sweet. And by sweet I mean totally awesome. I had never booked a band for anything before and was a little apprehensive, but the whole process of working with DMQ was so easy I'd highly recommend them to anyone. If you want people to dance and have fun at your wedding or party, book these guys!  They know a ton of favorites, play with great energy, and will totally accommodate your special requests (they even learned a new song for us – and nailed it!) and, they're just plain fun! DMQ rocks!"
Jamie Wiecks, Seattle
---
"We were looking for a band that had a great sound, a driving beat and could get everyone up out of their chairs and dancing. Wow, did we get what we were looking for! To see the young kids, the teenagers, the young families with babies, and even we old geezers all going crazy on the dance floor was a dream come true. And to keep everyone "out there" and energized until the mandatory 11:00 stop was also a testimony to your talents as a band. I can't thank you enough for your positive attitude and your clear vision of what the night was all about. You guys are champs. And talented champs as well. I'd recommend you to anyone considering an event in a heartbeat."
Joe McKinstry, Seattle
---
"DMQ made my 40th birthday bash stress-free and totally fun. Very professional, very talented. Even the wallflowers danced. And they let me (the birthday girl) sing backup!"
Molly Lammers, Seattle
---
"Having DMQ perform for our party really added a great celebratory tone and immediately got people smiling and dancing. Our guests stayed on the dance floor cutting a rug until the music fell silent. Thank you for making it so easy for us and for giving us such great music to dance to!"
Dena Rigby, Seattle
---
"This group was very professional, accommodating, talented and extremely fun! Everyone at the party had a wonderful time with their music. Dudley Manlove played a perfect assortment of songs and humored people who had musical requests of their own. I would love to hire them again, just need a good excuse for another party! Thank you!"
Tori D, Bainbridge Island, WA
---
"They are one of the BEST bands for a wedding or event — they are fun, get folks up dancing and their selection of songs is so 'bad,' it's terrific!"
Karen Sharp, Seattle
---
"I'm a long time fan of DMQ, so when planning our restaurant's 35th anniversary party, Dudley was my first choice. The guys were really easy to work with, accommodating of our requests, and great fun at the event. I'm sure many of our guests became new fans of the band. I would absolutely hire them again."
Lori Magaro
Marketing & PR Manager
Ray's Boathouse, Seattle
---
Hire us for your event. We'll make it a party to remember!